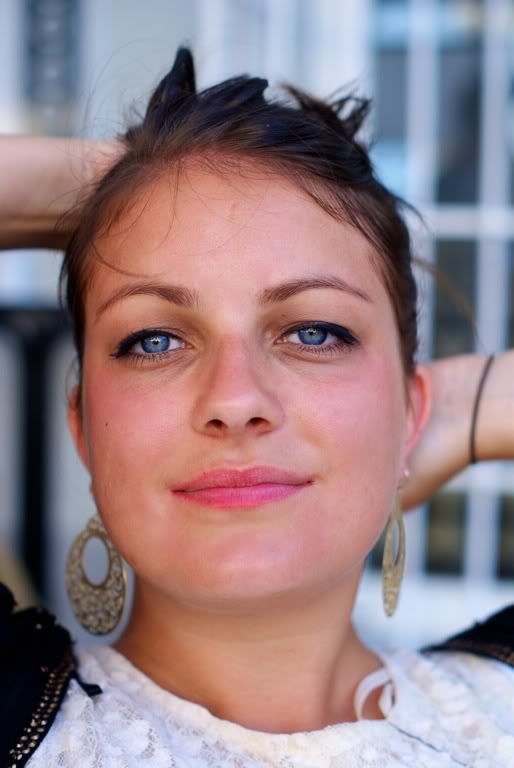 I've seen this here list of ABC questions circulating round the blogiverse for the last week, and in a moment of lacking inspiration and an uneventful afternoon, I decide to jump on the band wagon.
A
ge: The ripe old age of 21.
B
ed size: King. And even so we'd like bigger.
C
hore you hate: Cleaning the bathroom. I'll relatively willingly do any.other.chore, but cleaning the bathroom? No thanks.
D
ogs: Never had one. My parents always told us that my Dad was allergic to cats & dogs...I don't actually think that he is though. Cheeky parentals. I've only ever had four fish. Maud, Minnie, Peter Pan & Captain Hook. But I fed them too much and they died. Tragic story.
E
ssential start of your day: Washing my face. The day hasn't started until I have a clean face.
F
avorite color: PURPLE! Close second, yellow.
G
old or silver: Invent a time machine & ask me that question two years ago and I would have silver without even thinking about it. Now though...most of my jewellery is gold. Go figure.
H
eight: 5'9 or 5"10...I'm not sure. Above average anyway.
I
nstruments I play (or have played): I used to have piano lesson when I was about 8 years old. But i hated practicing and my piano teacher's house smelled weird, so I begged my Mom to let me stop. She let me quit but said I would regret it. Whaddayaknow. I do regret it.
J
ob title: I'm a part time nanny and a full time teaching student.
K
ids: No. I do want some though, but not soon.
L
ive: Currently.... Leeds. But born and raised in Sheffield.
M
om's name: Caroline.
N
ickname: Tuts, Chuch (those two are parents only nicknames...sometimes Ross winds me up by calling me Tuts), Becks, Beady, honeypie, any other ridiculous pet name
O
vernight hospital stays: Not yet. I've never even broken a bone.
P
et peeve: People who leave a trail of stuff behind them everywhere that they go. JUST TIDY UP AFTER YOURSELVES!
Q
uote from a movie: Not an inspirational one, just a hilarious one. From 'The Ringer' "Oh my stars, for the love of Liza!"
R

ight or left handed: Right.
Siblings: Just two younger brudders. Richard & Sam.
Time you wake up: Depends on the day. 6:20 if I'm working, 7:20 if I have a 9am lecture, any time on a Saturday and 8:30 on a Sunday.


U

nderwear: I don't exactly know what this question means. Yes, I wear underwear. And it always matches.


V

egetables you dislike: Aubergine.


W

hat makes you run late: When Ross sleeps in because he thinks he doesn't take as long as me to get ready, but then he gets up and takes AGES. This is also a pet peeve.


X

-rays you've had done: Never had one. Oh, I have, on my teeth.


Y

ummy food you make: Errrr....courgette enchiladas, sausage and tomato casserole and stuffed peppers. They are my favourites.
Zoo animal: Flamingos. Anything that is naturally that colour gets my vote.